When it comes to coffee, everyone has their favorite place, but if you don't know these 15 places in Tijuana, maybe you should start preparing an outing to enjoy your favorite stimulating drink, accompanied by the best expressions of Mexican and international cuisine.
1. Das Cortez Chapultepec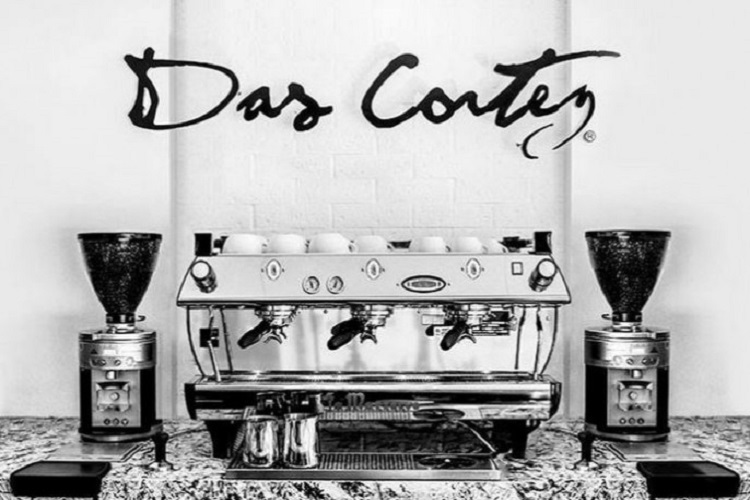 At Das Cortez Chapultepec we recommend you pamper yourself with something unique, a lavender latte, which combines the perfect point of coffee and creamy milk with the relaxing and anti-inflammatory properties of lavender. A whole healthy tribute of color, flavor, smell and texture to your senses!
There are already hundreds of fans of Das Cortez Chapultepec's lavender latte and you won't regret becoming part of this distinguished and delicious statistic.
The cup or shot of espresso with snow also has many supporters, as well as the different types of coffee and companions that they serve in a place that is also characterized by the cleanliness and kindness of its employees.
Address: Avenida Sonora, No. 3330-10, Plaza San Angel, Chapultepec, Tijuana
Telephone: 664 681 7852
https://www.instagram.com/p/B4n1GkwngWe/?utm_source=ig_web_button_share_sheet
2. Electric Coffee Roasters
The charm of Café Electric is the exquisite combination of its delicious coffees and snacks with its cultural programming, in a relaxed and comfortable environment.
We recommend you try the different types of coffee, for many it is the best coffee in Tijuana.
Address: Av. Hipodromo 9- A, Hipodromo, 22020 Tijuana, BC
Telephone: 664 628 7448
3. Saint Coco Coffee Bar
A cozy place that will impregnate your senses with the delicious aromas that you will already be perceiving just by entering.
Saint Cocó offers the highest quality coffees and a variety of milks from pampered dairy cows on the best Mexican farms.
Address: Av. Tapachula 7i, Hipodromo, 22020 Tijuana, BC
Telephone: 664 622 5488
4. Prague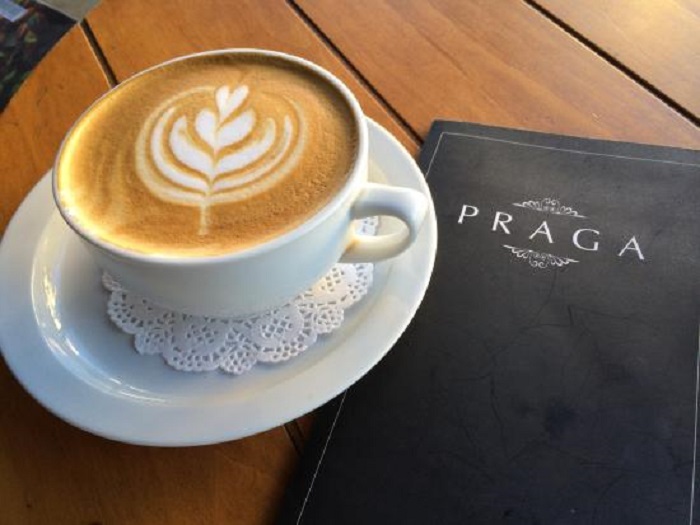 It is a place with vintage style, warm and cozy. It has two rooms, one outside that consists of a terrace, with outdoor seating and an excellent view of one of the most emblematic avenues of Tijuana; and an internal, spacious one, with an inspiring musical selection.
It has a small stage for events, live music and scheduled presentations, especially during the weekends.
It has free wifi and very friendly staff. You can enjoy breakfast, lunch or brunch and of course an extremely delicious coffee, which they prepare in different ways according to their menu and your wishes.
Address: Avenida Revolución 2050, Tijuana
Telephone: 664 685 7793
5. Cru Coffee Roasters & Cellars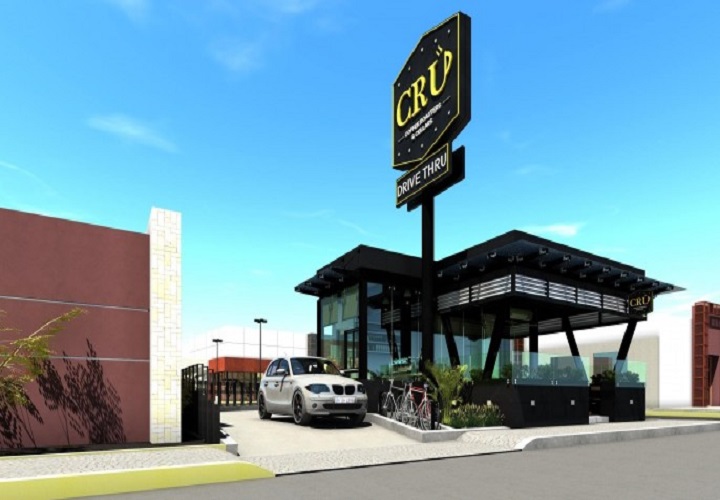 A site that fulfills its mission: to offer the best coffee in the best social space.
It is a spacious, clean place with modern decoration and tables inside and outside.
They offer high quality products, being part of the secret of their delicious coffees that these are made with beans carefully roasted in the same establishment.
You can taste their succulent baguettes, focaccias and salads, accompanied by tea, tisanes, frappés, and of course the house specialties in coffees, among which the delicious lavender lattes, dirty chai and espressos stand out.
Address: Boulevard Salinas 11120, Col. Aviación, Tijuana
Telephone: 664 972 9829
https://www.instagram.com/p/B4v99TRjJZT/?utm_source=ig_web_button_share_sheet
6. Cafe Baristi River Zone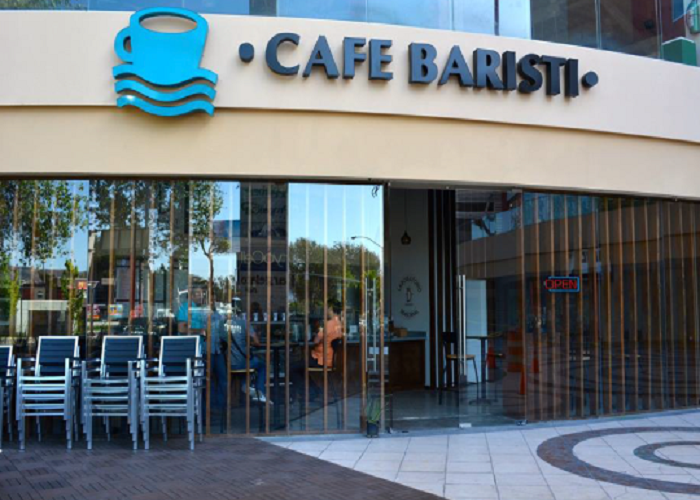 It is a quiet and relaxed place, ideal for those who want to enjoy a good coffee away from the hustle and bustle of the city.
It has an excellent selection of music, at an ideal volume so as not to disturb its visitors, and the service and attention are excellent.
Café Baristi has outdoor tables and free Wi-Fi, which is a great advantage for those visitors who want a space to concentrate on their work.
Open from early in the morning, it has an extensive menu for breakfast, brunch, lunch or dinner; or if you just want something to drink like their famous American coffee, a Mexican Oreo frappe, an Aztec mocha, or a caramel macchiato frappe.
Address: Plaza Pavilion, Paseo de los Héroes 9111, Zona Urbana Río, Tijuana
Telephone: 664 200 2817
7. Jacu Cacho
It's a great place for coffee lovers looking for a drink with character, beyond commercial styles.
It is a cafeteria with a modern concept, with quality service, where you can combine a delicious meal with an excellent coffee.
Among the most appreciated dishes and drinks are its sandwiches and its house cut and nutella mocha, the natural latte, the macchiato and of course the traditional espresso, latte, cappuccino, as well as the delicious frappés and fruit shakes.
Address: Fresnillo 2460, Col. Madero (Cacho), Tijuana
Telephone: 664 679 0591
8. Aquamarine Cafe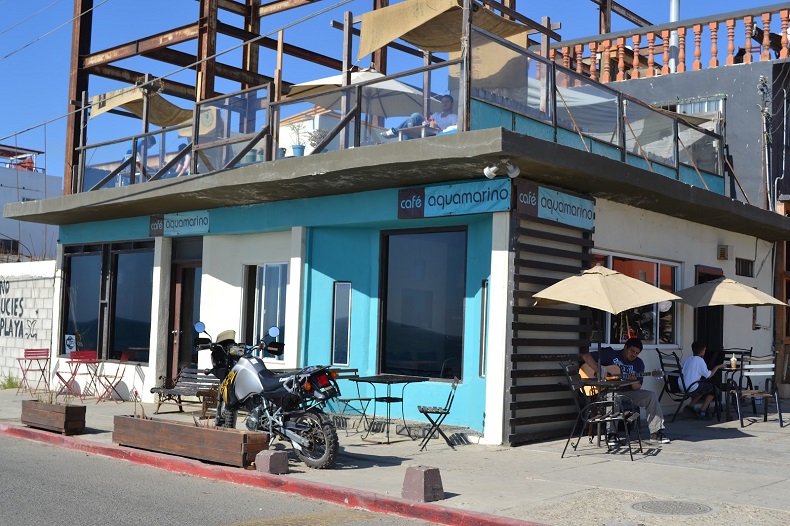 A place whose originality, view and style are enough to captivate its visitors. With a simple facade and beach furniture, this place has become a favorite place for those looking for a moment of relaxation to the rhythm of the sound of the waves in Playas de Tijuana.
In its pastry area or at its outdoor tables you can taste a delicious coffee, alone or accompanied by breakfast, brunch, lunch or dinner.
If you are a lover of the sea and its spectacular sunsets, you cannot hesitate to go to the terrace to enjoy the beautiful landscapes that the wonderful view of the beach offers.
It is the ideal place if you want to be in a quiet place to enjoy a delicious coffee with the only company of a good book, or if you are looking for a romantic atmosphere to share with your partner, or if you simply want a relaxed atmosphere to enjoy with your friends. .
Address: Paseo Costero 1342, Costa, Tijuana
Telephone: 664 631 8023
9. Cafe Dionysus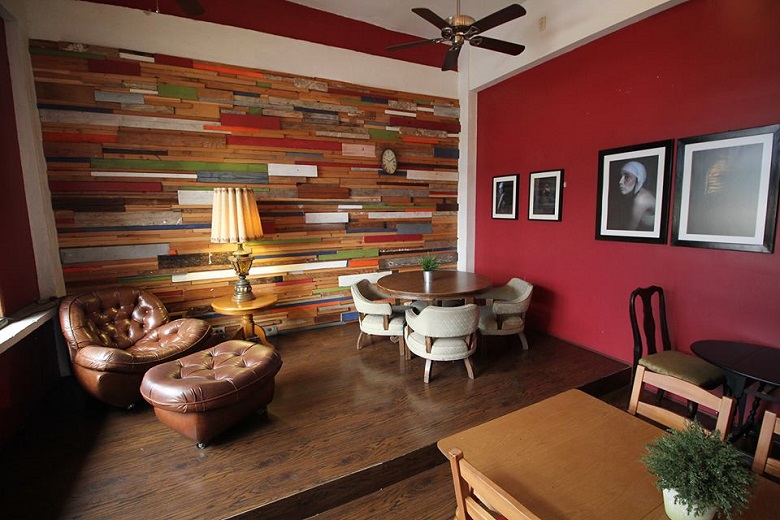 It is an alternative cafe with vintage touches and walls adorned with paintings and photographs, which together with the musical atmosphere create an atmosphere that takes your senses away from the problems of everyday life.
The atmosphere is comfortably casual and cozy. It is the appropriate place if you are one of those people who like to read, or have a quiet conversation with a good drink. Likewise, if you want to share a pleasant time with friends while enjoying the different cultural activities that they offer.
During your visit you can have free Wi-Fi and a varied menu, as they offer breakfast, brunch, lunch and dinner. Among the delicious local drinks, the American espresso, the espresso macchiato and the chai tea frappé stand out.
Address: Miguel Alemán Street, No. 2612, Corner with Agua Caliente Boulevard, Tijuana
Telephone: 664 369 2328.
10. Latitude 32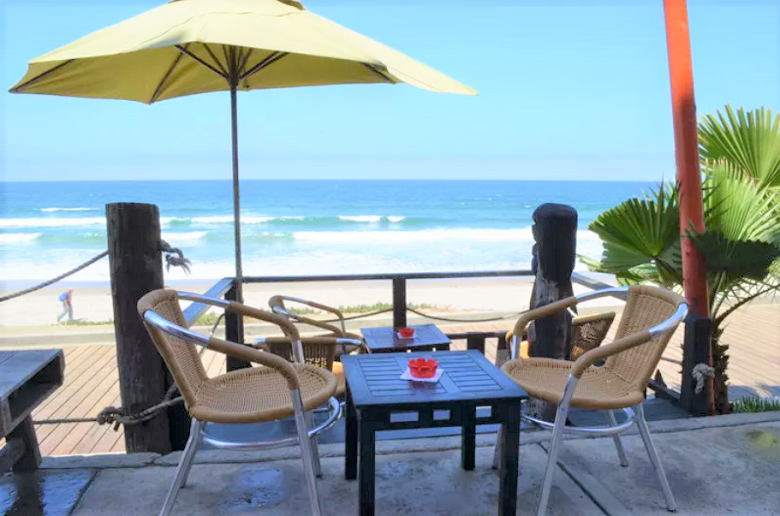 With an indoor and an outdoor environment, wooden furniture and a cozy and original decoration with murals and paintings, you can find Latitud 32 on the Paseo Costero.
Here you can enjoy a coffee by the beach, with inspiring background music such as blues and jazz, which blends harmoniously with the sound of the waves of the sea.
Latitud 32 is highly recommended if you want to enjoy a brunch, lunch or dinner, or just have a good coffee, such as the highly praised crazy coffee, a hot chocolate or a delicious frappé.
They say that there is no better way to start or end the day than with a good coffee in front of the sea and Latitud 32 is in tune with those who want to spend a bohemian and relaxing moment with the smell of the sea and the sea breeze caressing their face.
Address: Paseo Costero, Playas de Tijuana, Tijuana
Telephone: 664 609 4200
11. Starbucks Plaza Chapultepec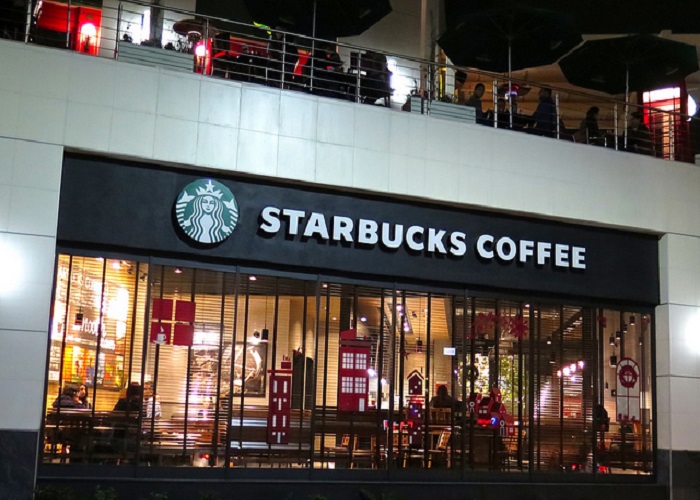 Starbucks is the most important coffee shop chain in the world, with more than 24,000 stores, a formidable presence in the market that is based on the strict selection of its Arabica coffee beans and a careful roasting process.
In Tijuana, the Starbucks brand has stores in:
Agua Caliente Boulevard, Chapultepec
Salinas Boulevard
Walk of Heroes, River Zone
Hippodrome Street
Otay Mesa, New Tijuana
Airport Highway, New Tijuana
Walk of the Pedregal
In the Starbucks you will be able to know the most surprising coffees that show the millenary work of the cultures of humanity to enjoy this portentous grain, as well as other hot and cold infusions.
Some coffees and drinks that enhance the flavor of breakfasts, breads, fruits, salads, yogurts, paninis and other foods splendidly served by Starbucks.
12. Blue Luna Cafe & Deli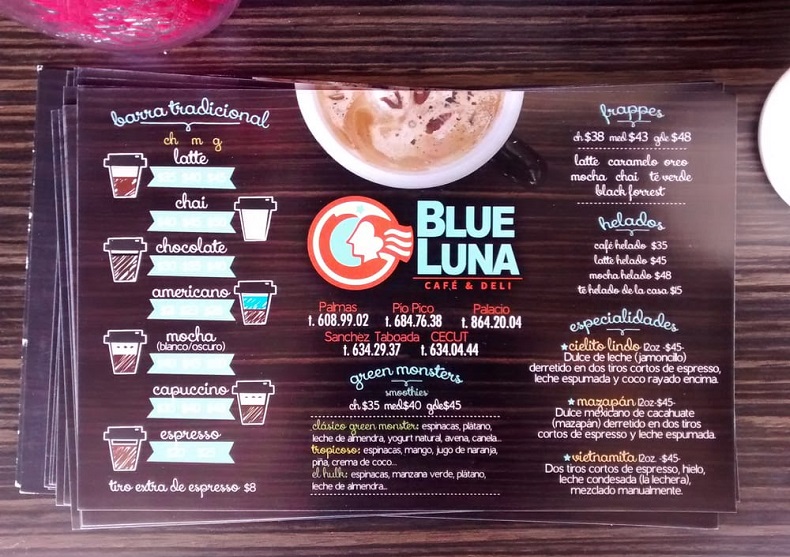 It is a place with more than 15 years of experience, giving each client who visits them the best of their coffee machines and kitchens.
It has several branches in Tijuana, so there is always a Blue Luna near you. All the premises have an interior environment with large windows and another exterior with tables for those who prefer to sit outdoors.
They provide quality service in a pleasant and welcoming atmosphere. They offer bagels, sandwiches and salads, which can be accompanied by their specialties, such as the delicious Cielito Lindo, Espresso Granita or a Don Porfirio, which contains Oaxacan chocolate, cinnamon, two shots of espresso, milk and crushed cocoa beans on top. You can also enjoy your favorite smoothie or frappé.
They have different promotions, some related to discounts on the menu of the day and others that seek to reward customer loyalty by accumulating points for consumption.
In Tijuana, Blue Luna Café & Deli has branches in Bellas Artes, Cecut, Otay, Pío Pico, Palmas, Palacio, Agua Caliente, Cuauhtémoc, Ermita, El Lago, Paseo del Río and Playas.
13. Riochia7 The Artist's Cabin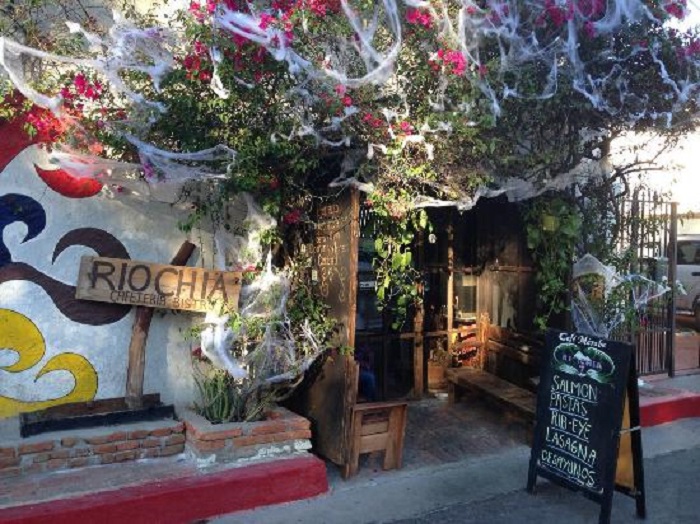 Hidden on the outskirts of the city is this small rustic and cozy space, with a bohemian atmosphere and decorated with paintings, where you can combine Mexican cuisine with the best of coffee.
Although it is a small place, it has two rooms. A lower one where you can delight your ears with the melodious notes that escape from the piano; and a superior one in which they have created a romantic space for those encounters with someone special.
It combines a friendly and helpful treatment with delicious food and exquisite coffees, highlighting among the favorite dishes the Mexican ciabatta, enchiladas and tamales; and of course their specialties, chai latte, mocha coffee, Irish coffee, frappuccino and the house coffee.
Address: Avenida Independencia, No. 6213, Tijuana
Telephone: 664 381 5069.
14. The Cattail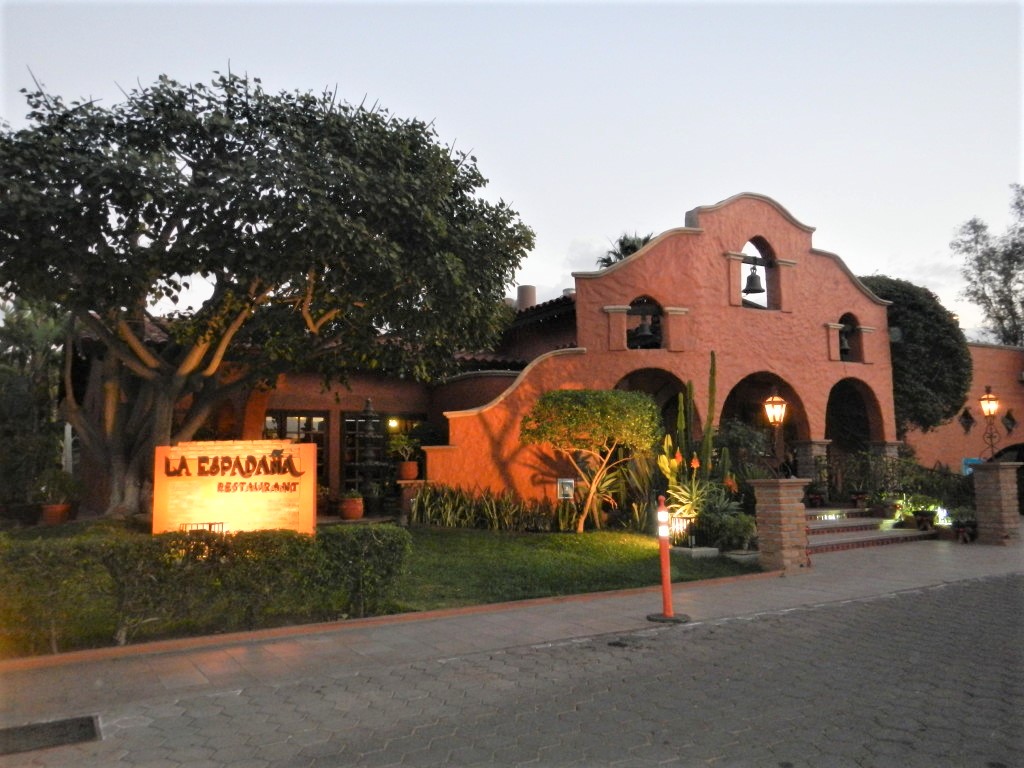 A restaurant with more than 20 years of tradition in the Tijuana community, set in the old Mexican haciendas, but with the warmth of a cozy home.
It is an iconic place, highly visited, as it has been able to adapt to the passage of time without losing its identity and maintaining the quality of its food and services.
Its dishes are mainly made up of typical Mexican food, the most famous being the chilaquiles and the house omelet. It also presents dishes with low cholesterol levels for those who opt for a healthier lifestyle.
The pot coffee is incomparable, as well as the house flan and the green apple pie.
Address: Boulevard Sánchez Taboada 10813, Tijuana
Telephone: 664 634 1489
15. Cafe Sospeso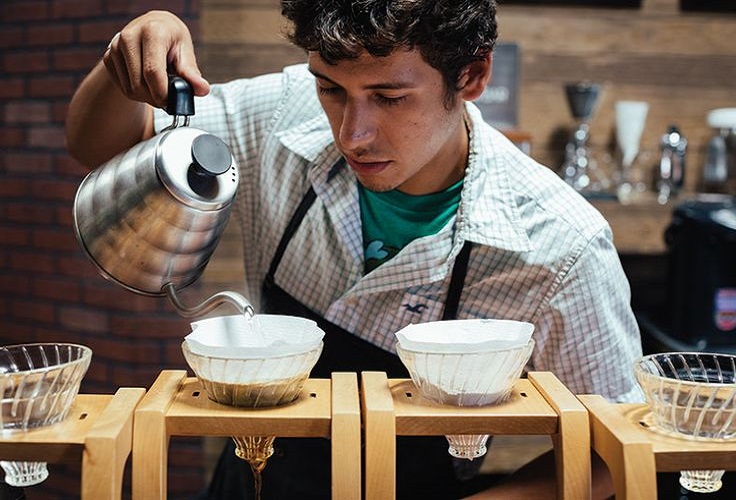 A modern and spacious site, with professional experts willing to provide extraordinary service and attention.
Its specialty is a different coffee, prepared without milk or sugar and with grains that contain different flavors, as they are brought from various parts of the world after buying them directly from the producers.
Likewise, for those coffee fans who prefer a different option than filtered coffee, they offer other varieties, such as lattes and cappuccinos. Be sure to try their famous sins.
Address: Boulevard Sánchez Taboada, No. 10342, Tijuana
Telephone: 664 634 3184
Ready to enjoy a coffee with a delicious snack? Enjoy them!
Share this article with your friends on social networks.
See also:
TOP 15 Best Places For Breakfast In Tijuana
TOP 15 Best Places To Eat Pizza In Tijuana
The TOP 15 Best Tacos In Tijuana That You Have To Try